ZT Italy | Company
Machinery and equipments for drawing mills
---
---
ZT Italy is a well-established but always evolving company, ready to give concrete answers to the most exacting demands in the optimization of the production process of wire processing machines
---
ZT Italy | Tradition and innovation
ZT Italy is an Italian dynamic company present in the world market since 2008, specializing in the design and manufacture of wet and dry drawing lines of CO2, stainless steel, aluminum and bronze wires, pay-offs, take-ups, precision layer winding machines, drum packing machines, coppering bath and cleaning and brightening lines.
Our highly qualified staff creates innovative solutions to realize high precision special machines and lines for stainless steel, aluminum and bronze wire drawing.
What distinguishes our products are the quality of the materials, the high productivity, the reliability and the uninterrupted use during the manufacturing process as well as the ease of use with advanced control panels.
---
ZT Italy | EXPOMETALS.NET
Expometals.net is an international online network for metal manufacturing and processing. Wire, cable, ropes, fasteners, springs, flat and long products, tubes, and linked industries. Magazine dedicated to the whole production chain, from raw materials to finished products considering machines, equipment, lubricants, tools etc. An excellent partner for the marketing.
---
---
ZT Italy | ACIMAF
The association ACIMAF has the purpose of promoting the image of Italian technology in the field of machines and products for the wire and cable manufacturing industry.
The Association works constructively to improve coordination between its member companies and the Italian Foreing Trade Institute (ICE).
---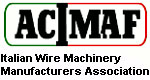 ---
ZT Italy | Flexibility
Flexible solutions for
drawing plants
of the metal wire
---
---
ZT Italy | Experience
Experience
in the field
of welding wire
---
---
ZT Italy | Versatility
Standard solutions
and customized according
to specific Customer requirements
---
PRODUCTS DRY DRAWING LINE
Dry drawing machine
Wire rod pay-offs
Wire rod descaling machines
Sand belt machines
Static and dynamic coilers
Spoolers
WET DRAWING LINE
Slip wet drawing machine
Wet drawing machines with controlled slip
Decoilers
PACKAGE LINE
Precision layer winding machines
Drum packing machines
WIRE TREATMENT
Coppering bath
Zinc electroplating bath
Superficial cleaning of the wire
Shaving lines for aluminum, copper and bronze wire